Here are pictures of the things the boys received from participating in the Valentine Card Exchange over at
The Fantastic Five
.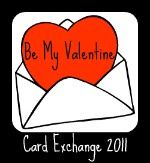 First to arrive was this sweet little painted box. (Along with 3 bags of Valentine M&Ms for each of the boys, which were devoured before I got a picture of them!)
Inside the boys found these adorable handmade magnets with their initials on them... 'L'ogan, 'M'atthew, and 'E'than!
Next they received these sweetly hand stamped heart cards from some very young and hard working "Valentine" friends.
They also received this beautiful heart transparency card from our sweet friends over at
The Forest Room
!
They really enjoyed participating, and Matthew and Ethan are already talking about what they would like to do next year. Maybe little Miss Claire will be big enough to enjoy participating next year!
xoxo